In the beginning of 2014, I was working on-board a cargo ship as a cadet. Since I had to travel in a lot of countries, I'm unable to carry enough of books with me (However now I've switched to eBooks). The only reading I did this year till date are the books I've listed below.
1. You Are Here
Author: Meenakshi Reddy Madhavan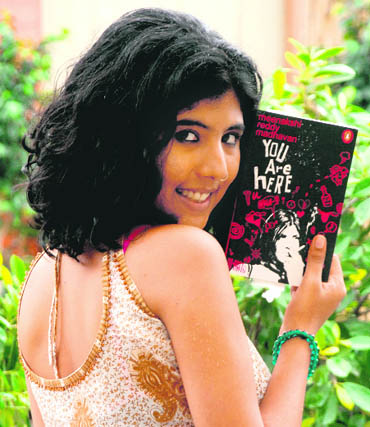 My friend who was sailing with me, gave me this book to read, as I had no option, I took it. The book is about a young girl and her not-so-interesting adventures to find the right person 'Prince charming'
2. The Alchemist
Author: Paulo Coelho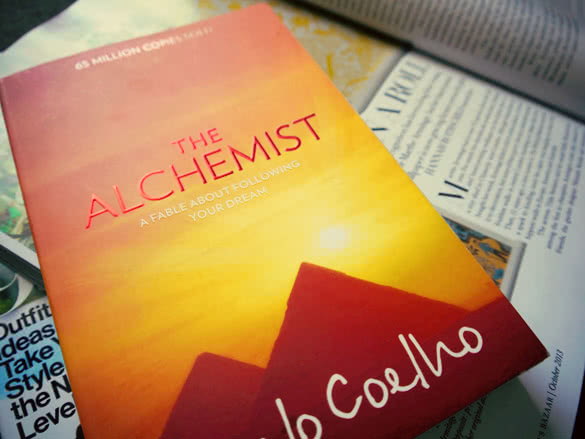 Recommended by many, especially my friend Kaushal and sister Amreen. This book is amazing and a must read once a lifetime. The story revolves around a boy named Santiago, who is a Shepard living in Spain. One night when he was sleeping, he dreamed of a place which had a buried treasure, he didn't exactly knew about the place but he saw Pyramids in background. So he began his journey to Egypt through the desert, during his journey he faces many troubles and setbacks, but he keep going. This book teaches a lot about life and everybody must read it once.
My Rating:

★★★

★
★
out of 5
3. How I Braved Anu Aunty & Co-Founded a Million Dollar Company
Author: Varun Agarawal
I really enjoyed reading this book. It was Inspiring, fast paced and witty. The book is based on a true story. Two friends in Bangalore with nothing much to do, one day (when drunk) decide to start a company which designs custom tshirts and hoodies for college students and youngsters. They start gathering information and knowledge related to the business and after many humps they successfully kick-start their company which they called 'Alma Mater'
The story revolves around the main protagonist Varun, who is under pressure from parents and most importantly 'Anu Aunty' who keeps poking her nose in every thing Varun does. To know How varun takes his company from zero to million dollars, read the book.
4. The Fault in Our Stars
Author: John Green
One of the best books I've ever read so far. I've written a detailed review on The Fault in our stars, read it here. The main story is about a Teenage couple who both are diagnosed with cancer. The book is a written account of their journey and fight with cancer, will they survive it? Read the book to know.
5. 55 by Chetan Chhatwal
Author: Chetan Chhatwal
Arjun Singh is a young sardar boy from South Delhi, he is a rich brat and has a full-proof career plan. He is worried about his admission in one of the top Delhi colleges, everything is going by plan and he secured above 90 marks in every subject, now no one can stop him from taking admission in his favorite college before he realizes that he missed one subject. He got 55 in English, enough to ruin his college dreams. He cannot believe this (as he performed well in English exam) he applies for re-evaluation but later founds that the Delhi Board office has lost his paper and now he is stuck with 55 forever.
He takes admission in a second rate Delhi college, as his friends were there :) The book revolves around his college days, ragging, friends, his misfortunes in love and coping with his Sikh identity. Overall the book is a nice and humorous effort, a light read for fun.
6. Bad Dreams (Fear Street Series)
Author: R.L Stine
R.L Stine is one of my favorite childhood authors, I grew up reading and watching Goosebumps. I can still remember the joy and thrill I used to get after watching Goosebumps. Bad Dreams isn't one of the Goosebumps books, it is from the Young Adult book series named 'Fear Street' by R.L Stine.
The story is about a family, who recently moved into a new house and neighbor hood. Two sisters and their mother. The sister aren't very fond of each other and often have disputes, the reason being that the elder sis is better at the younger one in everything. She is better swimmer (one of the best in school team), she has a better boyfriend etc. In their new house, she finds an amazing bed kept in her room, she wonders why the previous owners left it here. On that bed, every night, she wakes up of a nightmare! Whats is wrong with that bed? find out.
My Rating:
★
★
out of 5
Despite the fact that I'm a fan of R.L Stine, I didn't find Bad Dreams as good as the other Fear Street books I've read earlier. So I rated it 2 out of 5 (2 being average)
7. Love @ Facebook
Author: Nikita Singh
One day while browsing Flipkart's eBook store, I came across this novel. Since it was highly rated, appreciated and the book summary seemed interesting. I downloaded the sample book. The initial chapter were interesting, so I decided to read the book.
The story was of a girl, who stumbles upon an MTV VJ on Facebook. Since she is already a fan and liked him, she comment on his page. Wonder What? He replies and this goes on and on. She likes his pics, leaves comments and all and he replies. Soon they both are chatting and the story goes on. While this girl takes the thing seriously, that bloody VJ is just playing around.
The book was a debut novel of young aspiring Nikita Singh. She tried her best to make the novel interesting with twists and turns but I wasn't impressed.
My Rating:
★
★
out of 5
(and a 3 for Author

;)

)
8. Five Point Someone
Author: Chetan Bhagat
If you like reading stories of college students and college life, then this one is a must read. This was the first novel from the Indian bestseller author Chetan Bhagat. This book has been listed as a national bestseller and was adapted into a major Bollywood movie '3 Idiots' However the movie wasn't similar to the book (few parts were inspired) but the story remains different, which means if you've already seen the movie, you can still read the book and the mystery will still remain.
The story is about three guys in I.I.T Delhi (Ryan, Hari and Alok) and their adventures during the three-year degree course. A must read for every young book reader, as he/she will connect with the story immediately.
My Rating:
★★★
★
out of 5
9. Revolution 2020
Author: Chetan Bhagat
This was the first Chetan Bhagat book I ever read. It was recommended by my sister Mahima. I started reading the book and soon was a part of it. I really loved the story line and the characters. The Kota part reminded me of my friend Kaushal (who also went through Kota syndrome)
This was fun, light read by one of the most successful Indian authors. I will recommend reading this book.
My Rating:
★★
★
out of 5
Recent Reads : Books I Read in the Past Months with Quick Review [2014]
Reviewed by
Jimmie Luthra
on
7:51 AM
Rating: